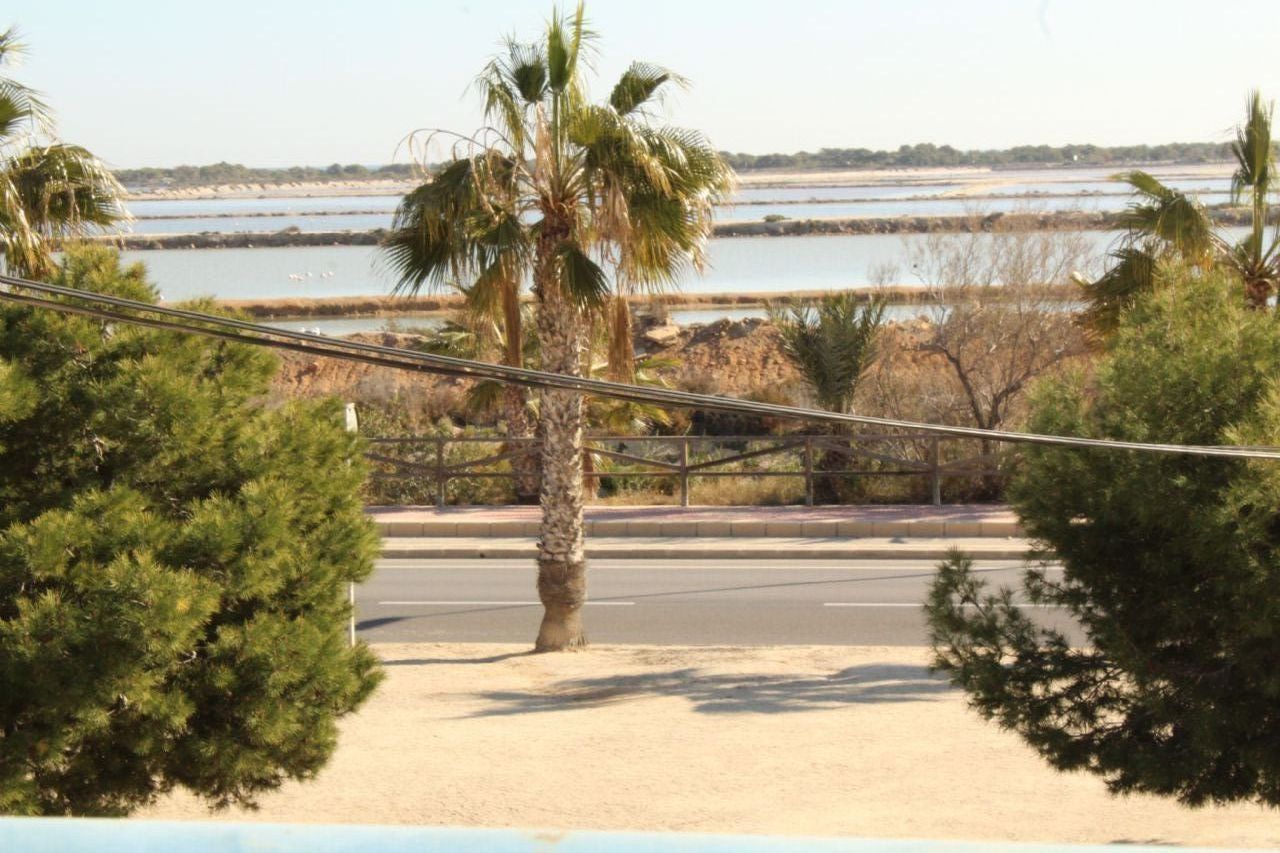 Rekkehus i San Pedro del Pinatar, lodomar, salg
Referansenr.: MT178
€129000 (-23%)
Pris: €99000
Bebygget Areal 70 m²
Tomt 119 m²
Soverom 3
Bad 2
DUPLEX WITH PANORAMIC VIEWS TO THE SALT LAKE IN SAN PEDRO DEL PINATAR
BARGAIN! INCREDIBLE DUPLEX with 3 bedrooms WITH PANORAMIC VIEWS TO THE SALT LAKE AND ITS FLAMENCOES!

PROPERTY
This BEAUTIFUL DUPLEX is READY TO LIVE IN. It has a FRONT AND LATERAL PORCH. Indoors, it has 1 BRIGHT LIVING ROOM, 1 BRIGHT bedroom, 1 small BATHROOM, 1 EQUIPPED kitchen and 1 storage room. Upstairs, there is 1 BATHROOM with a bathtube, 1 double bedroom and 1 main room with a wardrobe and a BRIGHT TERRACE with TERRIFIC VIEWS TO THE SALT LAKE. Besides, it is really close to different supermarkets, bars and the beach.

ZONE
It is one of the most popular tourist centre which you can find in La Costa Cálida. It is next to the Mar Menor sea and the Mediterranean Sea and it is known for its fishing industry, the curative lodes and its salt marshes and sandbanks. It also has many excellent beaches such as Playa de La Puntica (2 km away), Playa de La Mota (2 km away) and Playa de La Llana. There are also a lot of restaurants, shops, supermarkets, shopping centres, etc. In addition, there are many beaches and places where you can enjoy with your family and friends. There are very good connections both by road and highway as well as by public transport.
The closest hospital is the Hospital General Universitario de Los Arcos (6 km away) and within minutes you can find health centres such as the Centro Médico Lo Pagán. It is also close to airports such as Region of Murcia International Airport (30 km away) and Alicante Airport (54 km away).

Property tax: € 19 / month
Distance to the golf course: 8 kilometers
Distance to the sea: 800 meters

MUNFORT REF.: SG012
Informasjon om eiendommen
Type Bolig: Rekkehus
Type operasjon: Salg
Provins: Murcia
By: San Pedro del Pinatar
Området: lodomar
Soverom: 3
Bad: 2
Bebygget Areal: 70 m²
Tomt: 119 m²
Type Konstruksjon: Brukt
Energi-sertifisering (consumo):
Karakteristikk
Byggeår: 1993
Kjøkken: Uavhengig - Utstyrt
Antall Bad: 1
Terrasse: Ikke innglasset
Himmelretning: Øst
Utsikt: Hav
type Oppvarming: - Individuell
Hage: Privat
Parkeringsplass: Ja
Møblert: Ja
Ligger rett ved havet: Ja
Garderobe: Ja
DUPLEX WITH PANORAMIC VIEWS TO THE SALT LAKE IN SAN PEDRO DEL PINATAR
BARGAIN! INCREDIBLE DUPLEX with 3 bedrooms WITH PANORAMIC VIEWS TO THE SALT LAKE AND ITS FLAMENCOES!

PROPERTY
This BEAUTIFUL DUPLEX is READY TO LIVE IN. It has a FRONT AND LATERAL PORCH. Indoors, it has 1 BRIGHT LIVING ROOM, 1 BRIGHT bedroom, 1 small BATHROOM, 1 EQUIPPED kitchen and 1 storage room. Upstairs, there is 1 BATHROOM with a bathtube, 1 double bedroom and 1 main room with a wardrobe and a BRIGHT TERRACE with TERRIFIC VIEWS TO THE SALT LAKE. Besides, it is really close to different supermarkets, bars and the beach.

ZONE
It is one of the most popular tourist centre which you can find in La Costa Cálida. It is next to the Mar Menor sea and the Mediterranean Sea and it is known for its fishing industry, the curative lodes and its salt marshes and sandbanks. It also has many excellent beaches such as Playa de La Puntica (2 km away), Playa de La Mota (2 km away) and Playa de La Llana. There are also a lot of restaurants, shops, supermarkets, shopping centres, etc. In addition, there are many beaches and places where you can enjoy with your family and friends. There are very good connections both by road and highway as well as by public transport.
The closest hospital is the Hospital General Universitario de Los Arcos (6 km away) and within minutes you can find health centres such as the Centro Médico Lo Pagán. It is also close to airports such as Region of Murcia International Airport (30 km away) and Alicante Airport (54 km away).

Property tax: € 19 / month
Distance to the golf course: 8 kilometers
Distance to the sea: 800 meters

MUNFORT REF.: SG012
Mer informasjon
Fyll ut dette skjemaet hvis dere ønsker andre type informasjon ellers hvis dere vil gjøre en kommentar eller et forslag.

Feltene merket med * er obligatoriske.


Du kan også ringe:
(+34) 965 049 725
mer
Lignende eiendommer

MUNFORT
Calle San Juan, 1, 2ºA
03190 Pilar de la Horadada

(Alicante)