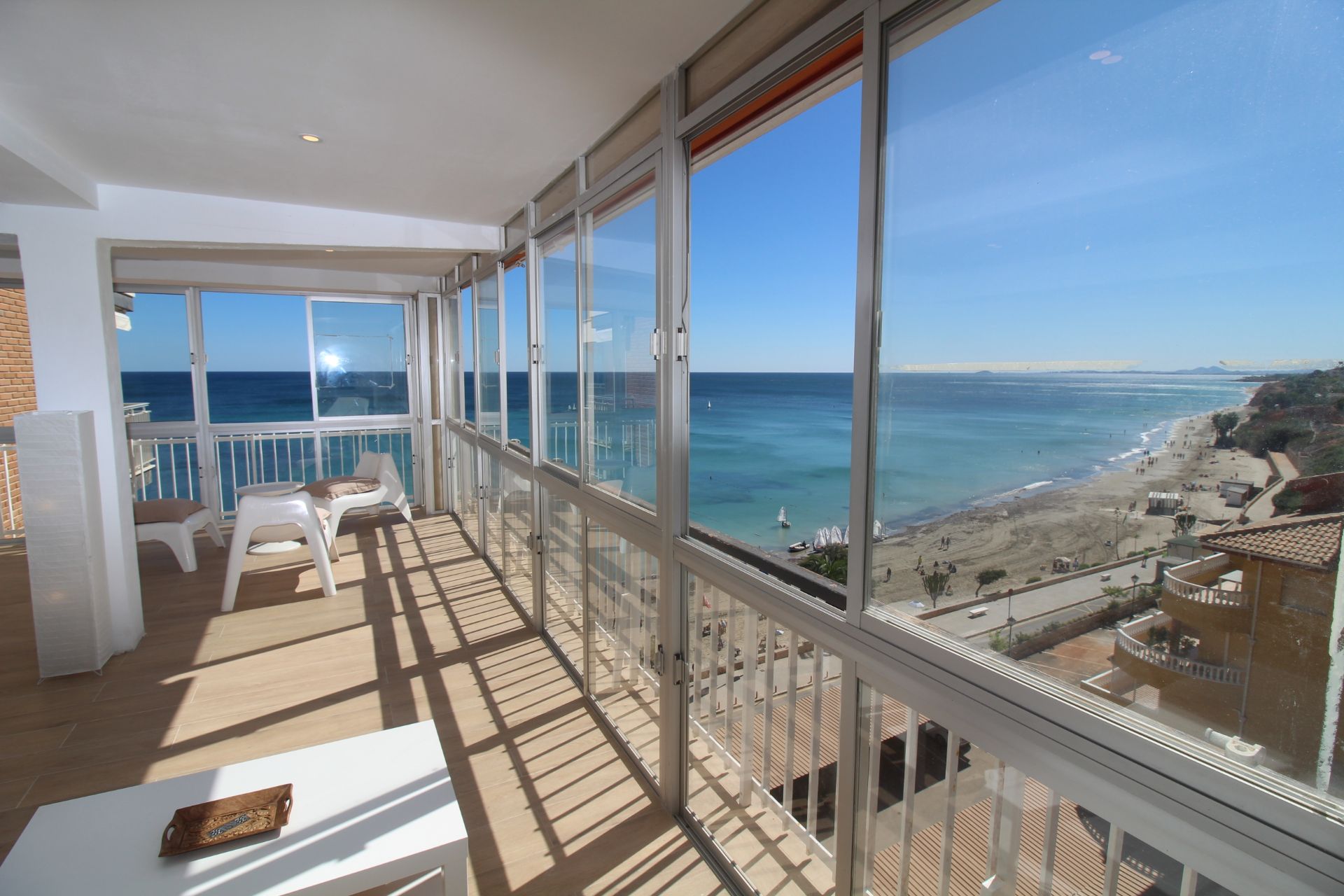 Toppleilighet i Dehesa de Campoamor, Campoamor, salg
Referansenr.: P160
€399000 (-25%)
Pris: €299000
Bebygget Areal 112 m²
Soverom 3
Bad 2
INCREDIBLE BEACHFRONT PENTHOUSE IN CAMPOAMOR
SPACIOUS BEACHFRONT PENTHOUSE APARTMENT with STUNNING SEA VIEWS

PROPERTY
PENTHOUSE apartment on the BEACHFRONT in CAMPOAMOR with a HUGE TERRACE with STUNNING SEA VIEWS, 3 bedrooms, 2 bathrooms and fully furnished. The kitchen is fully equipped with a utility room, complete with washing machine. This property is on the first line of the beach only a few meters away from the sea in the quiet and tranquil area of Campoamor. Private parking is included in the price.

AREA
Dehesa de Campoamor is surrounded by beautiful beaches such as La Zenia, Cabo Roig, Mil Palmeras or Punta Prima. This town has 2,500 meters of coast divided into three beaches with fine white sand. The beach of La Glea, which is the one that receives more visitors and is equipped with all services for lovers of water sports. There is also a paddle tennis and tennis club, where you can enjoy a sunny day or enjoy a drink in any of its bars and restaurants, making this beach the most lively and cosmopolitan in the area.
At Orihuela Costa, golf enthusiasts come here all year long for the great quality of their golf courses as well as those who are passionate about their parties and events (Moors and Christians, Medieval Market, Saint Patrick's Day, etc.). Easy access by highway, and good public transport network.
The closest hospital is the Hospital Universitario de Torrevieja (8 km away) and within minutes you can find the Hospital Quirónsalud Torrevieja. It is also close to airports such as Region of Murcia International Airport (35 km away) and Alicante Airport (47 km away).

PROPERTY TAX: € 20/month
Distance to the golf course: 2.5 kilometers
Distance to the sea: 0 kilometers
Informasjon om eiendommen
Type Bolig: Toppleilighet
Type operasjon: Salg
Provins: Alicante
By: Dehesa de Campoamor
Området: Campoamor
Soverom: 3
Bad: 2
Bebygget Areal: 112 m²
Type Konstruksjon: Brukt
Energi-sertifisering (consumo):
Energi-sertifisering (emisiones):
Karakteristikk
Etasje: 7º
Byggeår: 1978
Kjøkken: Uavhengig - Utstyrt
Antall Bad: 3
Terrasse: Innglasset
Himmelretning: Sør
Utsikt: Hav
type Oppvarming: - Individuell
Varmtvannsbereder: - Individuell
Parkeringsplass: Nummerert
Møblert: Ja
Heis: Ja
Ligger rett ved havet: Ja
Vaskerom: Ja
Garderobe: Ja
INCREDIBLE BEACHFRONT PENTHOUSE IN CAMPOAMOR
SPACIOUS BEACHFRONT PENTHOUSE APARTMENT with STUNNING SEA VIEWS

PROPERTY
PENTHOUSE apartment on the BEACHFRONT in CAMPOAMOR with a HUGE TERRACE with STUNNING SEA VIEWS, 3 bedrooms, 2 bathrooms and fully furnished. The kitchen is fully equipped with a utility room, complete with washing machine. This property is on the first line of the beach only a few meters away from the sea in the quiet and tranquil area of Campoamor. Private parking is included in the price.

AREA
Dehesa de Campoamor is surrounded by beautiful beaches such as La Zenia, Cabo Roig, Mil Palmeras or Punta Prima. This town has 2,500 meters of coast divided into three beaches with fine white sand. The beach of La Glea, which is the one that receives more visitors and is equipped with all services for lovers of water sports. There is also a paddle tennis and tennis club, where you can enjoy a sunny day or enjoy a drink in any of its bars and restaurants, making this beach the most lively and cosmopolitan in the area.
At Orihuela Costa, golf enthusiasts come here all year long for the great quality of their golf courses as well as those who are passionate about their parties and events (Moors and Christians, Medieval Market, Saint Patrick's Day, etc.). Easy access by highway, and good public transport network.
The closest hospital is the Hospital Universitario de Torrevieja (8 km away) and within minutes you can find the Hospital Quirónsalud Torrevieja. It is also close to airports such as Region of Murcia International Airport (35 km away) and Alicante Airport (47 km away).

PROPERTY TAX: € 20/month
Distance to the golf course: 2.5 kilometers
Distance to the sea: 0 kilometers
Mer informasjon
Fyll ut dette skjemaet hvis dere ønsker andre type informasjon ellers hvis dere vil gjøre en kommentar eller et forslag.

Feltene merket med * er obligatoriske.


Du kan også ringe:
(+34) 965 049 725
mer
Energi-sertifisering
Energi-sertifisering:
TA
TA

MUNFORT
Calle San Juan, 1, 2ºA
03190 Pilar de la Horadada

(Alicante)